Every spring, it seems like all of the magazines engage in fierce competition to have the boldest, brightest, most graphic, most creative Easter eggs on their covers. Some go for the super-saturated solids. Others use soft pastels, with marbled patterns or some kind of shabby chic application (how many toile eggs should there be in this world???). We see hand-painted flowers, dye-transfers, decals, lace patterns...the list goes on. But one technique that I haven't seen much fanfare about is pysanky, the Ukrainian art of egg decoration.
www.livingseason.com
This traditional art form uses dyes and beeswax to create beautiful, highly intricate patterns on eggshells. The artist uses a combination of geometric, plant, and animal motifs--each one highly symbolic--to transform the egg into a mini-canvas. These patterns have evolved over the centuries into more modern versions, but the technique is still the same. A process very similar to batik, the beeswax is applied to the shell wherever the next layer of color is not wanted, thereby preserving a design motif in an underlying color while a darker color is applied as the next layer. It is tedious work, but the results are spectacular.
www.npr.org
The origins of the technique are based on various myths or religious stories, most of them related to Christianity (with the first eggs being decorated by Christ's blood or the Virgin's tears). But, I came across another origin story that sounds like a Sinbad movie: The Earth's survival depends on the preservation of the pysanky art form. If egg decorating continues each year, everything is fine. However, there is an evil monster chained to a cliff somewhere who is held in his bonds by the power of pysanky. His minions patrol the globe, counting the eggs that are made. If the numbers fall, the beast's chains get a little looser. If the tradition ceases altogether, he will break free and destroy the world. So get crackin', people. Let's make some pretty eggs!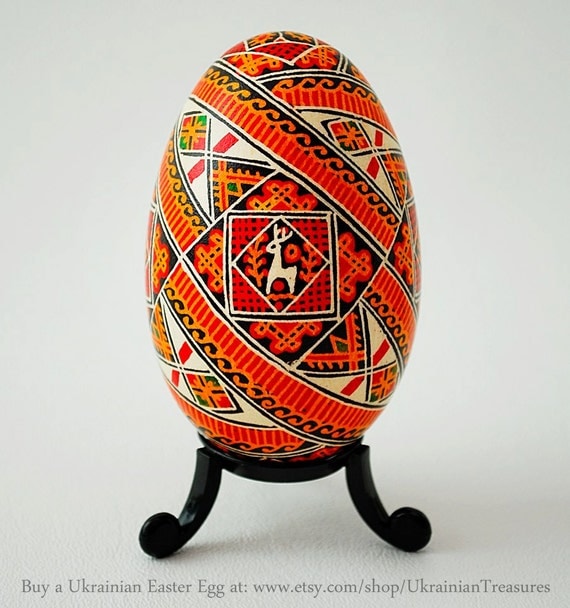 By UkrainianTreasures on Etsy
www.examiner.com
And some artists are going a more non-traditional route with their eggs:
From treebeard31.wordpress.com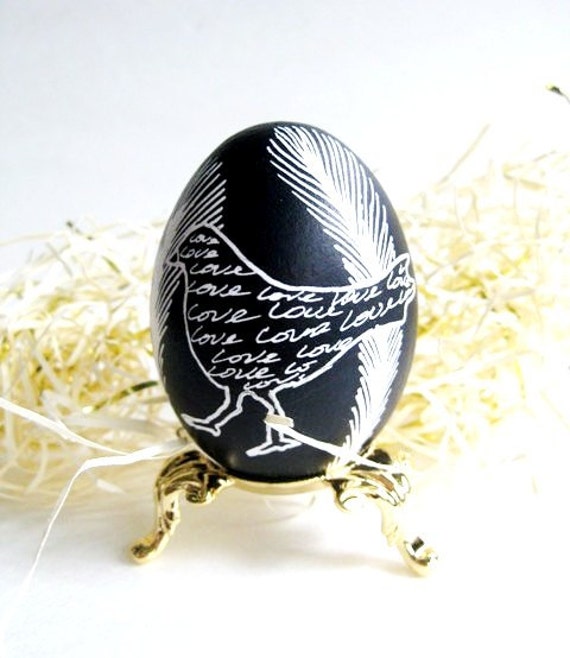 From UkrainianEasterEggs on Etsy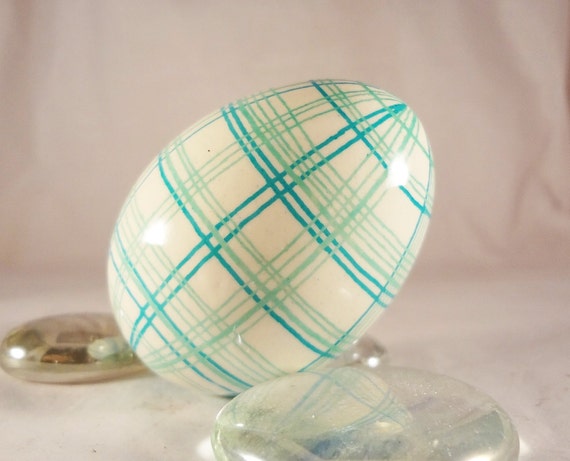 By GoldenEggPysanky on Etsy
Pysanky is also used to make jewelry. Decorated eggshell pieces can be mounted in pewter, silver, or gold. You can find them on Etsy, Amazon, or elsewhere online.
www.liveauctioneers.com
Or, some artists prefer to use the traditional Ukrainian designs with enamel and metals instead of eggshells and dye.
Vanessa Neily's
work is some of my favorite. Check her out on Etsy!