I suppose that a generalist would say that the Blackbird girls collect lithographed tin, but we have long had to subdivide and specialize that into sub-collections--globes, candy tins, tea tins, recipe boxes, typewriter ribbon tins, tiny tins.... They are on the verge of getting out of hand (remember the globe post from last fall?), but we just can't stop. One of my favorite collections is the recipe boxes, despite the fact that I have too many to see all at once. Right now, they are in my hutch, in stacks of three, three rows deep. I occasionally rotate them so they can all see the light of day.
I have a few that have "recipe rests" that flip up from the lids. I also have a box with a matching recipe/cookbook holder. We use that to hold recipes also.
I try to keep a $5 limit on recipe box purchases, but occasionally I find a really stellar example. I also get them for Christmas, or my birthday. They are extra special if the handwritten recipes are still inside. This one would fall into the "stellar" category.
My precious....
I have one double-size box, complete with recipes. A couple of years ago, we had a (misguided) notion to cook our way through the box, and blog about the results. What happened was The Great Caraway Incident, the first, last, and only time that we cooked something from that box. I swear, the house smelled like caraway seeds for weeks....
Even though I tend to stick with tin litho boxes, I do have some plastic ones. There is even a tiny box, just over three inches, that originally came with alphabet dividers. I guess it's technically an address keeper, but I could absolutely put tiny recipes in it. I also have a couple of boxes for Christmas lists, but I classify them in the recipe box collection anyway.
A friend gave me an oak recipe box for my birthday. I also have a large tin litho daisy box that has been assimilated into the collection (technically, it belonged to the other Blackbird).
Are you ready for this? Here is the rest of the collection (thus far).
And, there are some that I never find, but often lust after, like this 1950s Budget Balancer: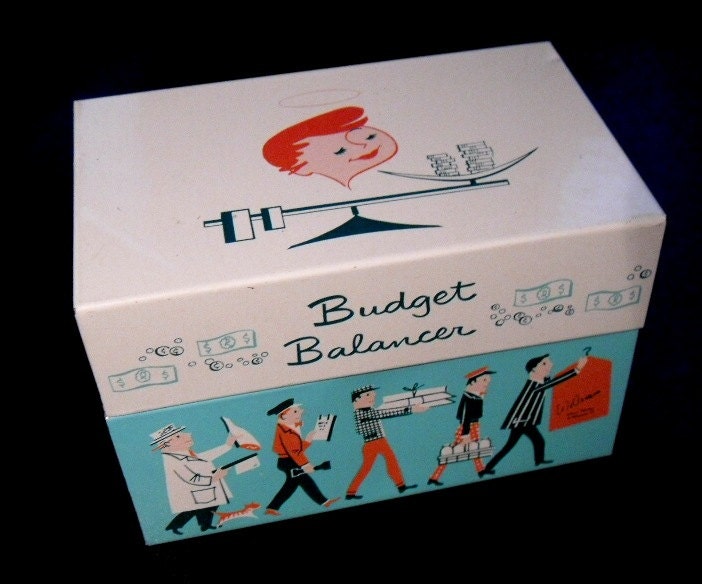 sold on Etsy :(