One of life's greatest pleasures is a late-Saturday-night pizza and channel surfing session. This is when you are allowed to watch weird stuff, without worrying about To-Do lists, deadlines, or the judgment of others. It's Guilty Pleasure time. It's Barbarella time.
A few weeks ago, on just such a night, we were moaning about the available options on cable, not yet ready to retire to our rooms, when we saw that
Barbarella
was coming on next. This prompted a conversation about how our parents were too mean to let us watch the movie as children (although we understand why now...), and the quick decision that the moment had arrived for us to fill in that missing link in our pop culture education.
And so, we watched Barbarella, laughing and gasping all the way to the end. It's a little bit dirty, and a lot bit cheesy, and fantastic in its badness. It was also powerful, in its own way. We can't stop talking about it. There is a part of both of us that secretly wants to live like Barbarella, and we've decided there are two ways to do this:
1. Exercise (a lot), use hairspray (a lot), wear very tight clothing (not a lot), accept an important mission on behalf of Earth, and sleep with everyone we meet in the name of Patriotism.
or...
2. Buy junk that reminds us of the movie's better (yes, this is subjective) moments.
We have decided to explore option 2, as it aligns more closely with our normal routine. We're not sure that we'd be very good at top secret government work anyway. And so, here are the ways that we would live like Barbarella, if we could....
You could wear an actual space suit, and spin in mid-air whenever you take it off
or, you could wear a snazzy metallic 1960s dress like this one:
from reflectionsofvintage.blogspot.com
Like this?
Shiny! Green!
Try this.
http://blog.marketpublique.com/category/tags/dress
We would love to live in a pod entirely carpeted in lush shag,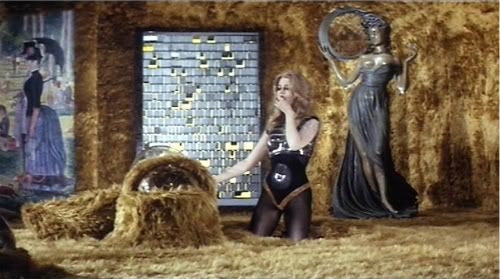 But we'd also settle for a cool vintage rug.
unfortunately, this one has been sold from etsy.com
And then we'd have to have a goddess statue to go with it.
ebay.com
We love this,
And who wouldn't love a vintage skunk fur coat (yes, they made them, and they are fabulous)?
http://rozessecondhandnews.blogspot.com
We love, love, love her boots:
So, we could buy some like these: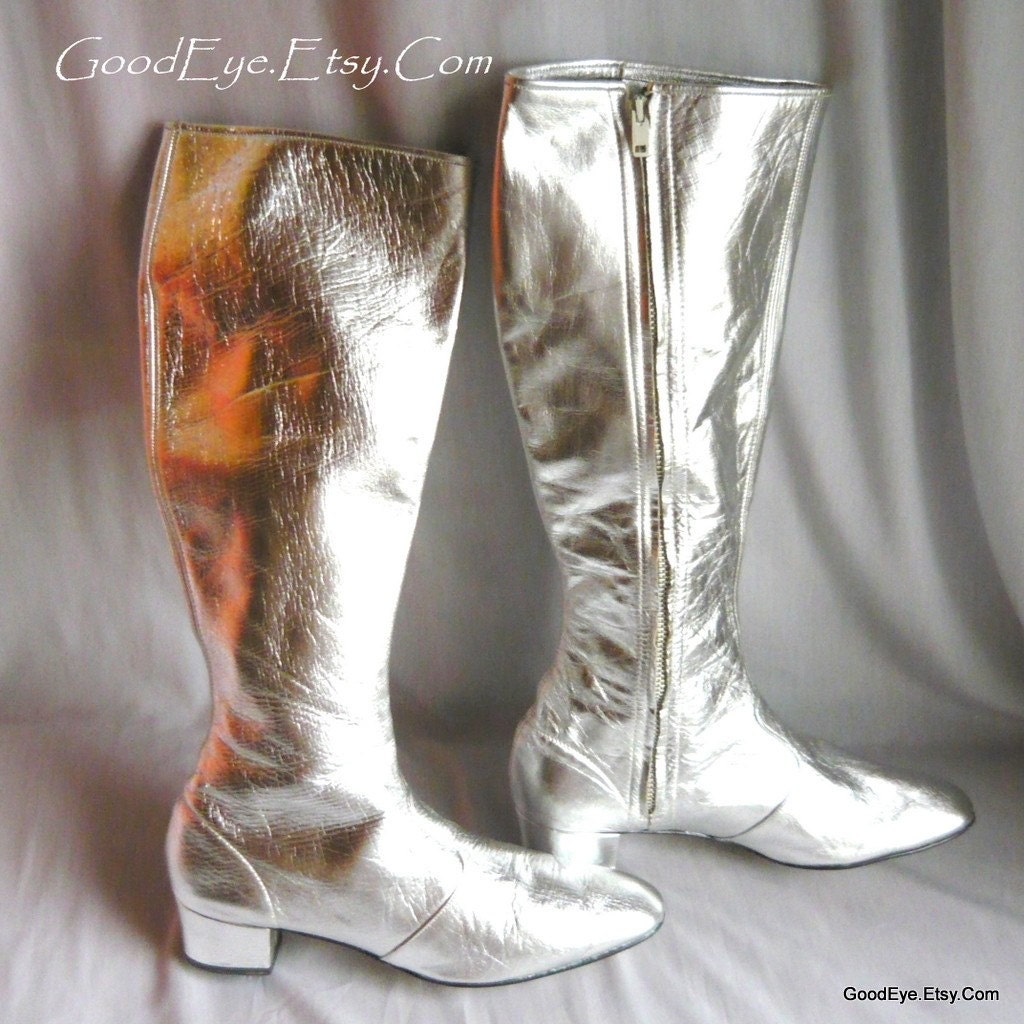 etsy.com
And speaking of black and white (and more boots):
Oh, how I love thee. Let me count the ways...
vintage mod dress, modcloth.com
With some boot options:
Vintage mod boots, from afunkyshoeandboot.com
Black Chanel thigh-high boots, from Elle France Sept 2012
Vintage black and white boots, from polyvore.com
And you can't wear it, but you can certainly watch Barbarella on it (but not in the same room as the rug)...
stylehive.com
Now, all we need is some colorful mood lighting, a blind angel to fly us places, a backyard maze full of naked people, and a hookah room with swings and piles of pillows. I think it could work.